If your question is which size is the best for the background read this small guide that will help you in choosing by clarifying any doubts.
Texturit backdrops: what sizes are available?
On the Texturit website, there are 7 sizes available for a double-sided backdrops, whether they are stone or wood effect. In addition to these, it is always possible to request a customized size if there are special needs. In this case, write to info@texturit.com
Smart – 50 x 50 x 1 cm / 19.68" x 19.68"
Small – 60 x 40 x 1 cm/ 23.62″ x 15,74″
Middle – 60 x 60 x 1 cm / 23.62″ x 23.62″
Large – 80 x 60 x 1 cm / 31.49" x 23.62"
Table – 100 x 60 x 1 cm / 39.49" x 23.62"
Extras – 100 x 80 x 1 cm / 39.49" x 31.49"
Meter – 100 x 100 x 1 cm / 39.49" x 39.49"
What size is best for backdrop? Preliminary evaluation
Some basic aspects to take into consideration when choosing the size of a backdrop:
Place of use
Personal style
Versatility
Place of use
The photographic background must be calibrated to the place where it will be used: in the studio or for outdoor shots. A larger size is certainly more comfortable in the studio while a smaller one is easier to carry outdoors. A good compromise are the intermediate sizes valid for both studio shots and outdoor sessions. (For those looking for very light and cheap backdrops, they can try the vinyls of Digitalcolorslab.com)
Personal style
A background must be commensurate with the type of photos that are usually taken. We must ask ourselves: What is our style? Do we use the photos for professional purposes or for our social channels? Do we mainly take macro photos to attach to recipes or for video recipes on YouTube and Instagram? If our style is mainly macro then small size will be fine but if our creative field is video, still-life photography or commercial photography we need larger sizes.
Advice: prefer a background that is consistent with your style but that is adaptable to a future artistic evolution.
Versatility
When choosing backgrounds, the aspect of versatility is certainly the most important one. Having a larger space to set up your photographic set allows you to insert more props making the shot more complete and attractive. It is thus possible to create photographs and videos in Flat Lay style and highly performing macros, both for commercial use and for editorial and social purposes. We can have more stylistic arrows to our creative bow!
Below is a gallery of graphic patterns that clarify this opportunity. (click on the images to enlarge)
Backgrounds: the importance of versatility
As can be seen from the graphs mentioned above, increasing the size of the background increases the space of the composition, giving the possibility of adding props while always maintaining a good relationship with the empty spaces, which is essential for creating balanced photographs. A larger size brings with it more space for wider shooting angles, lengthening the image field. It follows that you have more props included in the image in a harmonious way, without having to cut parts of the composition.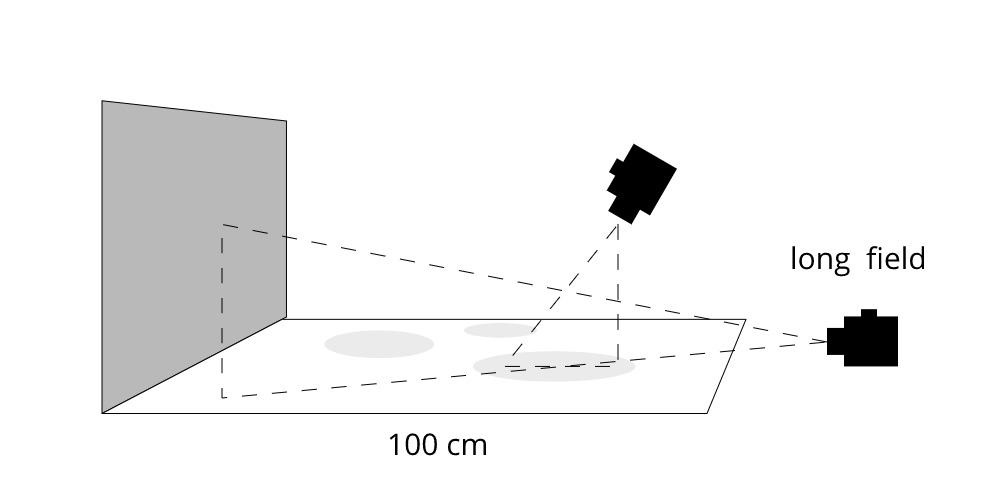 Backgrounds: the advertising photo
One last aspect to take into consideration when choosing the format is to understand whether or not it is suitable for advertising shots. Many companies require compositions with wide angles, especially in Flat Lay style for their social profiles, catalogs and advertising campaigns.
Having large sizes, from 100×80 cm upwards, allows you to be competitive on the market and win jobs and orders from major brands and marketing agencies.
What size is best for backdrops? Conclusions
let's trying to answer the question by drawing up a series of characteristics for each size so as to identify the one that best suits our needs.

If you want personalized advice, more details or you need non-catalogue sizes, do not hesitate to contact us at our email info@texturit.com